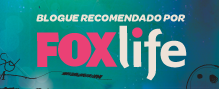 Allurettes, já sabem como sou com boas notícias - FICO A MORRER DE FELICIDADE. Hoje trago outra... O Allure Urbano é, desde hoje, um blogue recomendado pela Fox Life!!! :D:D
Agradeço desde já a todas as leitoras e leitores que têm tornado este sonho possível e conto convosco para partilhar muitas e cada vez melhores notícias!
Dear Allurettes, you know how I get with good news - I DIE OF HAPPINESS! Today, I bring another good news... Allure Urbano is, starting today, a Fox Life reommended blog!!! :D:D
I thank all of my readers that have been making this dream possible and count on you to share more and better news every day!