Um tema com o qual me tenho debatido constantemente é o da comida vs moda que tem cada vez mais vindo a ser entendido como comida E moda! Fico feliz por esta junção em vez da alienação que era anteriormente atribuída aos dois temas, não vou esconder... mas quanto disto é "publicidade enganosa"? Não me refiro já às marcas (como Louis Vuitton) que criaram malas de pic nic e afins, mas ao público em massa que, cada vez mais, é levado a querer encontrar moda na comida (quem nunca viu as famosas imagens - fabricadas, claro - das marcas associadas a fast-food e bolos? E quem nunca viu blogues de moda com referências alimentares?). A verdade é que, depois dos infames acontecimentos relacionados com esta indústria e a anorexia, as modelos começam a ser vistas a comer e as pessoas interessam-se por aquilo que elas comem! Acabaram-se as modelos que não comem? Provavelmente não, mas já vemos algumas que, tal como nós (ok, como eu :s), são obsecadas por doces! Avé Macarons! 
P.S - A "Comida da moda" vê-se à distância pela cor!! =P
A theme that I've been strugling with constantly is the Food versus Fashion theme, that has been over and overly sen as Food AND fashion! Of course I'm happy with this gathering instead of separation, I'm not hidding it... but how much of this is "bad publicity"?
I'm not refering to brands (such as Louis Vuitton) that have created pic-nic bags and so on, but to the mass crowd that, more and more, is lead to wanting to find fashion in food (who has never seen the famous images - photoshoped, of course - of brands associated with fast-food and cakes? And who has never seen blogs with food-references?). The truth is that, after the horrible things that conected fashion and anorexy, models are begining to be seen when eating and people want to know what they eat! No more food-free models? I don't think so, but at least we see some models that, like us (ok, like me :s) are obsessed with candy! Ave Macarons!
P.S. - You can see fashion food by its color! =P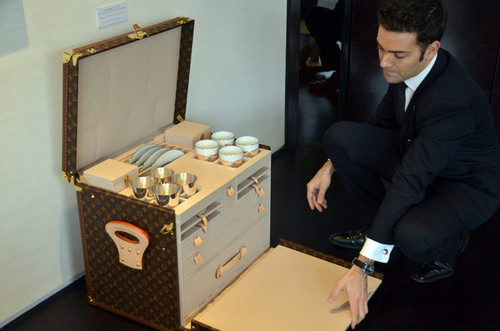 Pic-nic bag Louis Vuitton (picture from The Blond Salad)