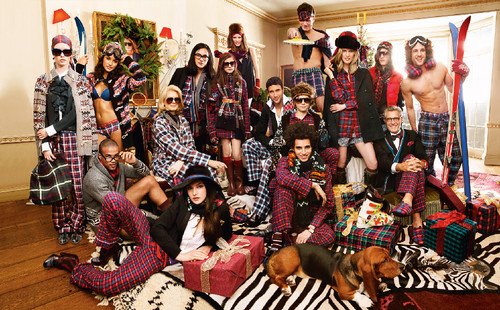 Todos os anos toda a gente se apercebe do aparecimento da época Natalícia antes de mim. Talvez por fazer anos perto do Natal, talvez porque acredite que o Natal é mais um estado de espírito do que uma desculpa para compras (até porque, para mim, qualquer desculpa serve, não tem necessariamente de ser porque é Natal :P), ou talvez ainda porque, todos os anos, penso que a Câmara vai reduzir uns diazinhos de luzes natalícias para cortar na despesa. Mas não, começam seeeempre a época antes de mim.
Geralmente preciso de um sinal... Cá em casa já tinha havido uma espécie de sinal quando, chegados de um retiro, os progenitores fazem por fazer uma pequena oração com todos ao jantar (mas como tinham chegado de um retiro... achei que não fosse pelo Natal).
Mas aqui está, chegou, o sinal de que precisava... o sinal de que eu também queria que o Natal chegasse :D
Tudo bem que o mais próximo de homens semi-nus cá em casa nas festividades é o Menino Jesus do presépio, e tudo bem ainda que, em vez de Tommy da cabeça aos pés, tenhamos alguém incrivelmente mal-disfarçado de Pai Natal, mas é sempre uma altura MUITO bem passada (e, na maioria das vezes, pelos motivos certos).
A casa da Tommy deseja um bom Natal à minha, e a última agradece e retribui. E a vossa?
Every year everyone realizes Christmas time is coming before I do. Maybe because my birthday is near Christmas, maybe because I believe that Christmas is more like a way of living that an excuse to shop (even because, for me, every excuse is good, so it doesn't necessarily have to be because it is Christmas :P), or even maybe because, every year, I think the city council will reduce a dew days of Christmas lightening so the expense lowers. But no, they aaaaalways start this season before me.
Usually I need a sign... Here at home I already had a sort of a sign when, returning from a retreat, my parents did an effort to pray with everyone at dinner (but, as they had just arrived from a retreat... I just thought that wasn't about Christmas).
But here it is, the sign I needed... the sign that I also wanted Christmas to arrive :D
Okay... at home the closest to half naked men I get is Baby Jesus in the crib and again, okay, instead of Tommy head-to-to, we have someone incredibly well-dressed as Santa, but is it always a REALLY well-spent season (and, most of time, for the right reasons).
Tommy's house wishes my house a great Christmas, and mine returns the wishes and thanks. How about yours?
P.S - Vocês também têm estes "sinais" de Natal?
P.S - Do you also have these "Christmas signs"?