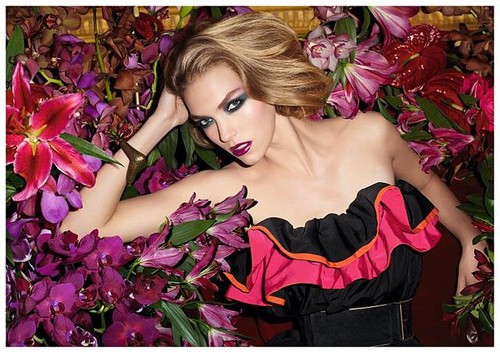 Estando em Tróia com a família para passar o fim de semana deixa-me muito pouco (ou nenhum) tempo para vos ir relatando os acontecimentos, por isso hoje vou falar-vos do que fui fazer ontem de manhã... Fui ver a nova colecção de maquilhagem da Yves Saint Laurent. Já tinha conhecido o Mário (maquilhador da YSL) há cerca de um ano e tinha adorado! Desta vez não foi diferente :) Como estava com um vestido roxo e preto, decidimo-nos por uma maquilhagem em tons de roxo. No fim, saí de lá com mais alguns produtos da marca (que é a minha preferida DE SEMPRE para maquilhagem).
A palete de cores é qualquer coisa de extraordinário e, para além de muito pigmentadas e de conjugarem muito bem juntas, duram um dia inteiro! Claro que tinha posto o primário da Top Secret antes o que, bem vistas as coisas, é uma grande ajuda. Tive imensa sorte porque tinham lá um reservado que estava abandonado (a dona não foi lá buscá-lo) e ficou meu haha :D Já estava há um ano a tentar encontrá-lo e estava sempre esgotado! Mas valeu bem a pena a espera. A pele fica aveludada, com um toque de luz instantâneo e uniforme.
A minha maior extravagância terá sido, talvez, a máscara (rímel) roxa, mas adorei! A cor não é muito evidente, mas tem mais brilho do que um rímel preto. Além disso, a escova funciona muito bem nas minhas pestanas.
Também adorei os batons da nova colecção, mas acabei por trazer um outro que já tinha debaixo de olho há muito tempo, com uma cor Barbie irresistível!
Como ando doida por vernizes, tive de trazer um e a escolha não foi fácil (a nova colecção está mesmo mesmo boa). Acabei por trazer o mais claro, com um tom muito metalizado e heterogéneo (mal posso esperar por experimentar).
No final de contas, esta é capaz de ser a minha colecção preferida da YSL (mas o Mário já me avisou que, conhecendo os meus gostos, vou ficar doida pela do Reveillon - já a vi no blogue da Amberhella e, sim, fiquei K.O.
Deixo-vos com as fotos :D
Being in Tróia with my family leaves me very little (or none) time to tell you what is going on, so today I'll let you know what I did yesterday morning... I went to see Yves Saint Laurent's make up collection. I'd already met Mário (YSL's make-up artist) about an year ago and loved him! This time is was no different :) As I was wearing a black and purple dress, we decided to go with a purple toned make.up. In the end, I left with some more products of the brand (my ALL TIME favorite brand for make-up).
The color range for is something from out of this world and, besides being very pigmented and going really well together, they last all-day! Of corse I had put Top Secret's primary first and that is a BIG help. I had tones of luck because there was only one primary in the store because it was reserved but the owner didn't pick it pu soooo it became mine haha :D I was already trying to find it for a year and it was allways out of stock so I deserve it. It was worth the waiting though. The skin gets really smooth and has an instant and uniform glow of light.
My biggest extravagance was, maybe, the purple mascara, but I just loved it! The color is not too evident but has more glow than a black mascara. Besides, the brush works really well in my lashes.
I also loved the collections' lipsticks, but ended up bringing another one, from a previous collection because I already wanted it for a while. It is of an irristible Barbie pink shade.
As I'm crazy about nailpolishes I HAD to bring one and it was not an easy choice (the new collection is really really good). I brought the lighter one, in a metal and non-uniform tone (can't wait to try it on!).
Bottom line, this may be my favorite collection of YSL ALL TIME (but Mário already warned me I would fall in love with the Reveillon collection - I've seen it already in Amberhella's blog and went K.O.
I'll leave you with the pictures :)