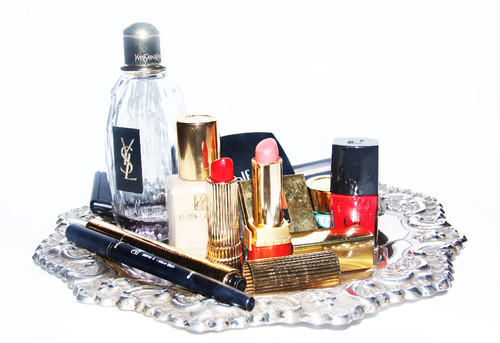 Naqueles momentos em que a última coisa em que podemos pensar é em moda e a única coisa em que realmente pensamos é nisso mesmo? Geralmente coincidem com alturas de muito trabalho e muito stress e, a mim, pensar em pêlo e lantejoulas, sapatos e batons, dá-me uma sensação de alívio imediato. Então pensei: Não me vou arranjar para ficar sentada na mesa a estudar maaaas posso-me distrair e ver o que vou pedir para o Natal. Resumindo: dos meus "beauty must-haves", quais estão a precisar de reposição? 
Então aqui estão eles, incluindo os que estão mesmo no fim :(, como o meu all-time favorite perfume "La Parisienne" (Yves Saint Laurent) e o Touche Éclait (também YSL e que, volto a dizer, recomendo a TODA a gente - se só tiverem um produto de maquilhagem, que seja este porque tem mil e uma funcionalidades!), a minha base perfeita (que finalmente, depois de milhões de compras erradas, descobri - Double Wear da Estée Lauder) e o meu lápis Lindo, perfeito e BARATÍSSIMO (não estou a gozar, custa 4€ e é melhor do que todos os que experimentei até agora!) da ELF.
Lista feita - check!
In those moments when the last think you can think about is fashion and the only thing that really comes to your mind is precisely that? Usually they come in times of hard work and a lot o stress and, to me, thinking about fur, sparkle, shoes and lipstick, gives me an instant relief feel. So I thought: I'm not going to prep myself just to sit at a table studying buuuut I can distract myself for a few minutes wondering what to ask for Christmas. In one setence: from my "beauty must-haves", which ones need reposition?
So here they are, including the ones that are ending :(, as my all-time favorite parfum "Le parisienne" (Yves Saint Laurent) and Touche Éclait (also YSL and, I'll say it again, I recomend to EVERYBODY - if you only have one beauty product, this is the one to have because it have so many functionalities!), my perfect foundation (which I finally found after milions of wrong purchases - Double Wear by Estée Lauder) and my beautiful, perfect and REALLY CHEAP (not kidding, it costed 4€ and it is the best I've tryed so far!) kôhl pencil by ELF.
List done - check!