E assim acaba mais uma estação da Moda Lisboa. Com um último dia fantástico saliento vivamente o desfile de Miguel Vieira.
No entanto, não seria justo não apresentar os outros.
And here it ends, another Fashion Week season. With a fabulous last day I give special focus on Miguel Vieira's show. However, it would not be fair not to mention the others.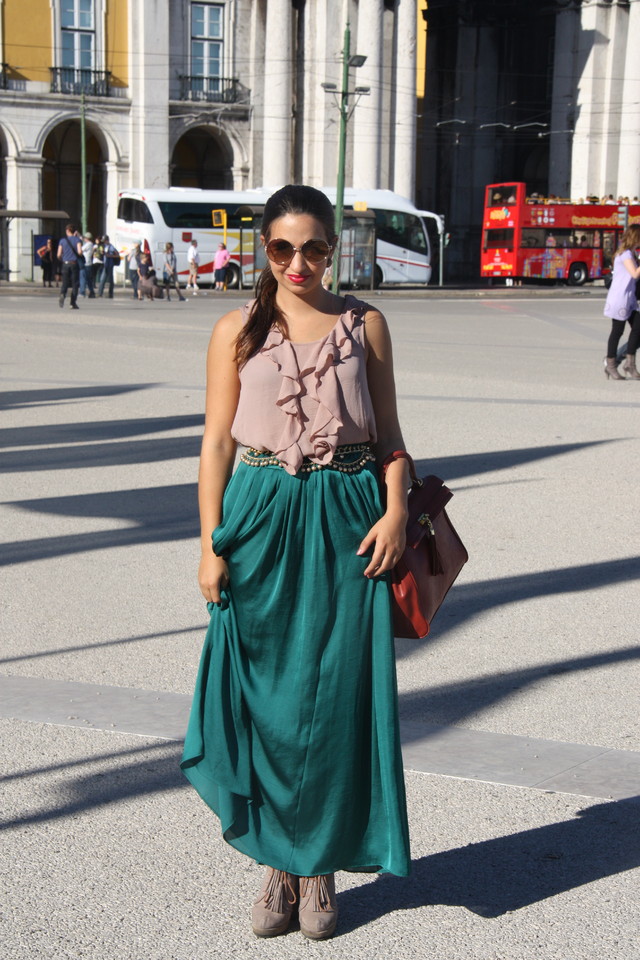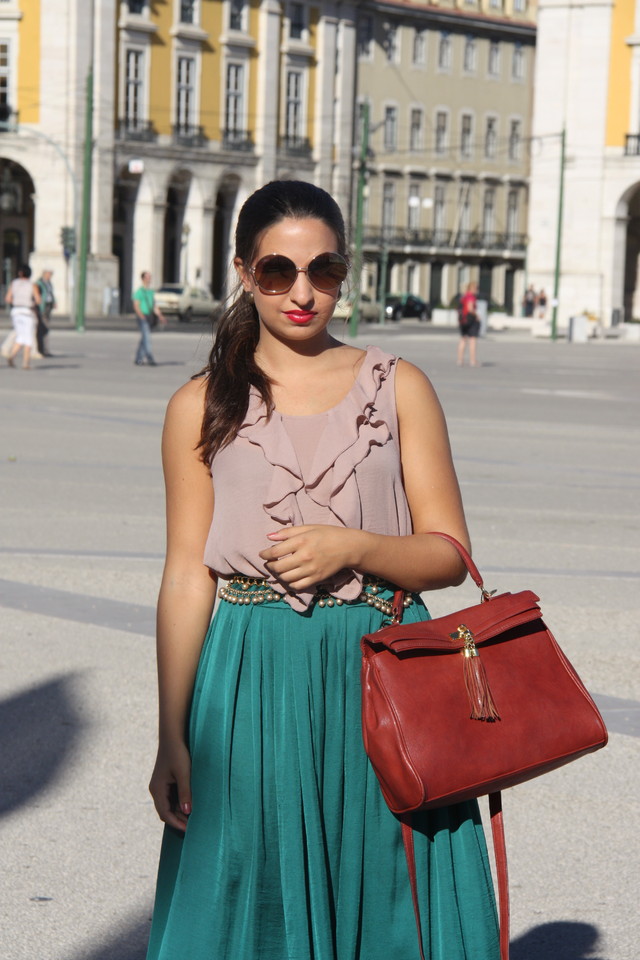 Começo com Katty Xiomara, que foi o primeiro do dia no Terreiro do Paço. Devo dizer que não fiquei fã :( cortes muito femininos (demasiado), com pormenores também eles muito femininos, misturas geométricas com cores... No entanto, houve algumas peças que me fizeram o balanço entre o não gostar e o "não fiquei fã" - adorei a capa e o vestido branco!
Starting with Katty Xiomara, that was the first of the day in Terreiro do Paço. I must say I was not a fan of the collection :( Too feminine cuts with also very feminine details, geometric mixes with color... However, there were a few pieces that made me balance between the "don't like" and the "not a fan" - I loved the cape and the white dress!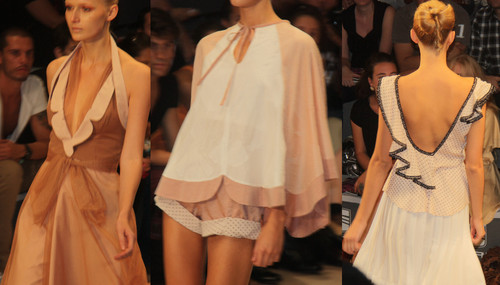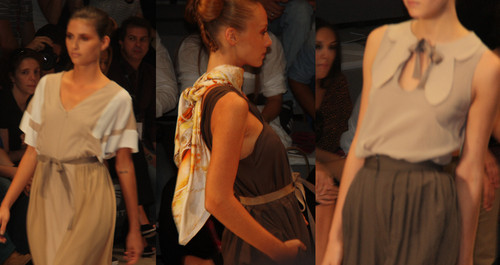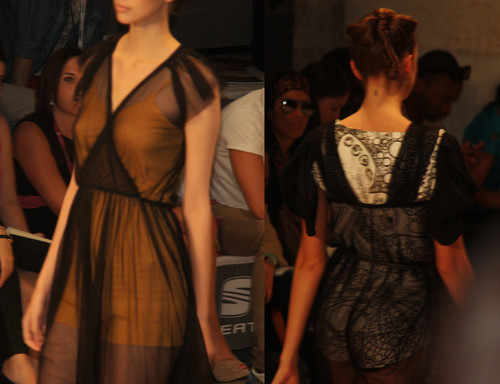 A seguir a Katty Xiomara veio Miguel Vieira. Só digo isto: Este SENHOR (com todas as letras maiúsculas!!) não precisa de cor para fazer a melhor colecção da Moda Lisboa. Os detalhes de materiais, os apontamentos de luz dado pelos dourados, os cortes irrepeensíveis... muito muito elegante. Até os cabelos e a maquilhagem estiveram melhor do que em qualquer outro desfile! E a música!! ("Paroles paroles", Dalida e Alain Delon). Que orgulho ter um designer assim no nosso país! Menos palavras e mais imagens, deliciem-se!
Next to Katty Xiomara was Miguel Vieira. I'll only say one thing: this MEN (with all capital letters!!) doesn't need color to make the best collection of Lisbon's FashionWeek. The material details, the light appointments given by the golds, the perfect cuts... very, very elegant. Even the hair and make-up were best than in any other show! And the music!! ("Paroles paroles", by Dalida and Alain Delon). What a pride to have such a desginer in our country! Less words and more pictures, delight yourselves!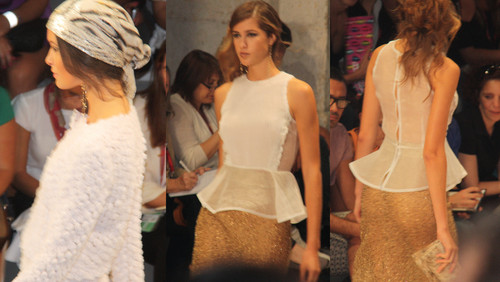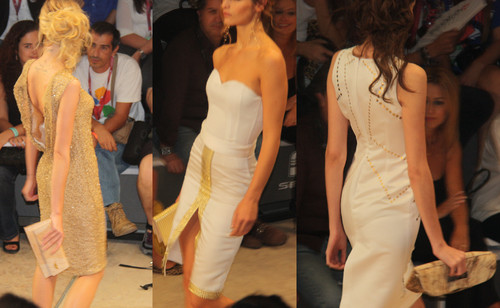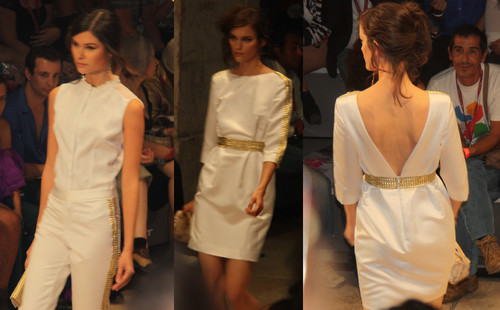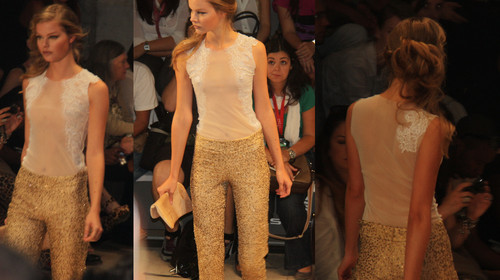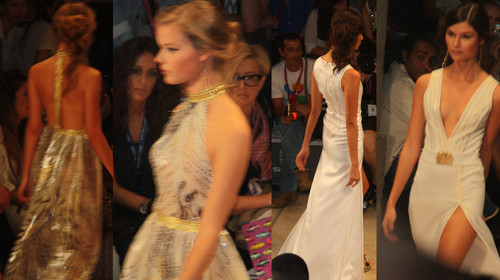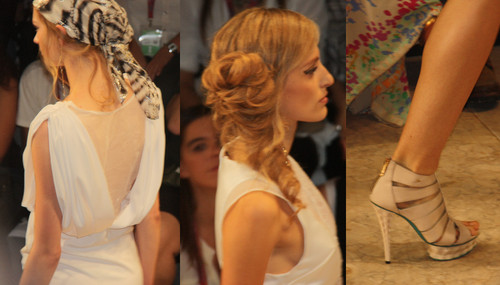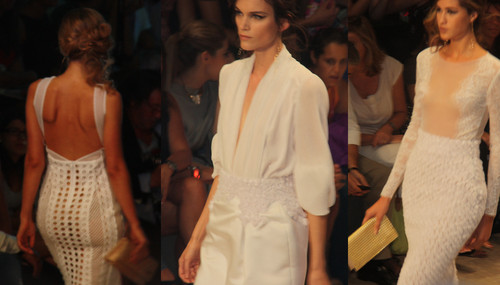 Depois de Miguel Vieira, Aleksander Protic. Ora bem... Não gostei muito nem pouco... Foi um desfile interessante, mas dificilmente usaria alguma das peças. Sem dúvida o melhor foram os pormenores dos ombros em bico mas o desfile não me cativou por aí além. Talvez por não ser bem o meu estilo. No entanto, pode dizer-se que foi memorável. Por mais não seja, porque a música parou a meio (ups!).
After Miguel Vieira, Alekander Protic. Well... Can't say I liked or dislikes... Was an interesting show, but I would hardly wear any of the pieces. Without a doubt, the best were the pointed shoulders of one jacket but the show did not overwhelmed me. Maybe because it is not my style. However, you can say it was memorable. At least because the music has stopped during the show (ups!).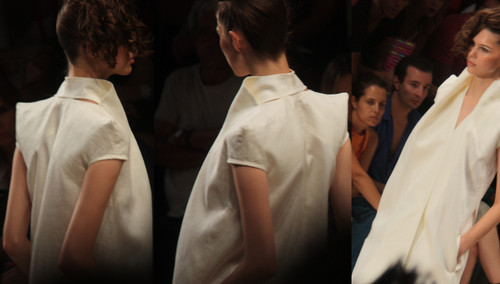 Por fim, Ricardo Dourado. Devo dizer de depois de 1h de espera e, ainda por cima, depois de Miguel Vieira ter sido um sucesso, fiquei desapontada quando começei a ver saír dos bastidores modelos de "pijama" e "fato-de-treino". No entanto, foi melhorando muito (MESMO) e acabei por sair satisfeita :). Não obstante as peças mais interessantes serem muito escuras para a Primavera, vendo-as individualmente utilizaria algumas (bastantes).
Last (but not least...?) Ricardo Dourado. I must say after 1h waiting and, even harder, after Miguel Vieira, I was very disapointed when I saw coming off the backstage models in "pijamas" and "sports clothing". But it got (REALLY) better and I left satisfied :). The most interesting pieces were too dark for Spring but, looking at them separated from the whole look, I would probably wear some (a lot).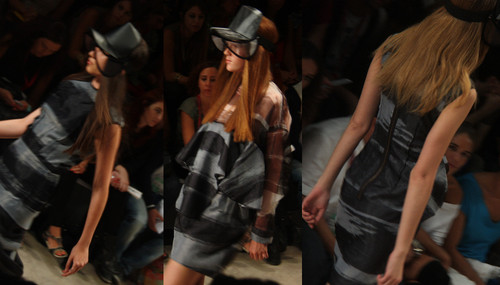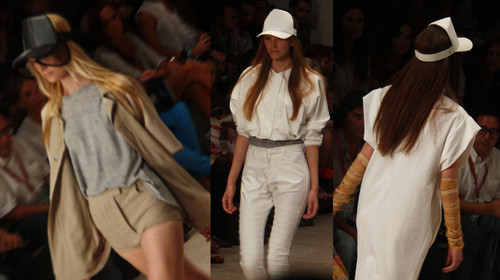 E foi isto :) Em Março haverá mais, e eu aqui estarei :D
And this was it :) More coming in March and I'll be there :D