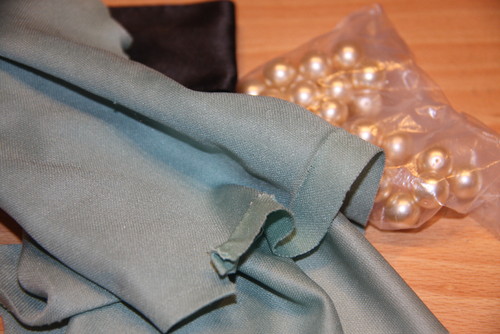 Lembram-se de ter dito que estava numa de DIYs? Não me lembrei na altura, mas a verdade é que já fiz alguns (até porque costumo fazer muitos acessórios).
O mais interessante e, sim, levou tempo, mas gostei imenso do resultado final, foi a "gola" de pérolas que usei nos Fashion Awards. Remeber?
O processo foi simples:
Tinha espuma preta e um tecido meio elástico de um azul muito bonito. Fiz um molde para o colar-gola (talvez seja mais isto), cosi o tecido à espuma e fui cosendo as pérolas uma a uma até ficar como queria :) 
Fiquei tão feliz com o resultado que levei para os Fashion Awards e, sinceramente, é daquelas peças que, sozinha, faz um look inteiro!
Que acham?
Remember when I told you I was into DIYs? Well, I didn't remember at the time but I've already made some (even though because I'm used to doing a lot of accessories).
The most interesting one and, yes, it took some time, but I really liked the result, was the pearls collar I used in Fashion Awards. Remember?
The process was simple:
I had some black foam material and a stretchy blue fabric. Made a draw to the shape of the collar and sew the fabric into the foam. Then, I sarted sewing the pearls one by one until it was the way I wanted it :)
I was so happy with the final result that I wore it at Fashion Awards and, honestly, it is one of those pieces that, on its own, makes a look!
What do you think?
De
Liliana
a 10 de Dezembro de 2011 às 17:43
Gostei bastante (: uma ideia para o futuro seria gravares o processo e fazeres uma espécie de tutorial dos acessórios que vais fazendo. Seria bastante interessante.
Sim eu tinha pensado nisso, mas como ja tinha este feito n dava =P

Mas sem dúvida farei no futuro :D


Ficou bem gira e original! :)
De GirlChic a 11 de Dezembro de 2011 às 12:50
Eu adoro DIY mas vou sempre deixando para depois todos os meus projectos!!! Estas ferias tenho mm que me dedicar a um ;)
Beijinhos e gostei muito
haha é o q costumo fazer também, mas de vez em quando lá me dedico às arts&crafts :)